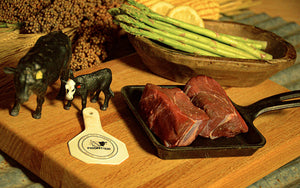 Frontier Beef
Filet Steak
Regular price
$20.28
$0.00
Unit price
per
Also known as the filet mignon, or beef tenderloin, depending on what side of the pond your on...this is the gold nugget of all steaks. The most tender and flavorful, this is the perfect special occasion selection, for the anniversary, new job, new beginning...or just to enjoy life a little bit more! Sear this steak in herb-butter and enjoy this delectable meal!
• Two 8-16oz filets per package, cut 1 inch thick
• Available in 3 size options: Small (8-12 oz) Large (13-16 oz) or Extra Large (1 lb +).
• Pasture Raised, Grass Fed, and Grain Finished on our Oklahoma Frontier Farms
• 20 Day Dry Aged
• Raised Sustainably and Ethically
• Cut By Hand, One-Animal-At-A-Time
• Individually Wrapped, Labeled, Ships Frozen
• USDA Inspected & Labeled
• Graded Top Choice

* Variation in oz/price of this item may result in a separate charge or refund depending on our inventory of filets, specifically for online orders paid. 
---