Welcome to Frontier Beef
Frontier Beef offers several options for beefing up your freezer, from our farm to your family! Consumers and businesses interested in supporting our Oklahoma farm sourced Frontier Beef, check out our savory options!
Why Frontier Farms Beef?
Taste the difference in your Oklahoma farmer grown beef from Frontier Farms!
Our Frontier Farms "crew" goal is to provide the highest quality sourced, premium beef from our farm and ranch to your table.
From the environmentally friendly cropping practices used to the way we handle our livestock, we pour our love of the land and animals into each ounce of Frontier Beef.
We work 365 days a year to produce premium crops and the best quality meat products from our field to your doorstep.
We want you to be proud of where your beef comes from and to enjoy the best product to feed your family.
• We are an Oklahoma Farm-ily raising quality crops, beef, and kids.
• All cattle are finished for 90+ days on our corn, barley, oats, and locally sourced alfalfa and soybean hulls to enhance marbling and savory flavor.
• Local butchers have graded our beef as top choice, and say it is the"best beef" and marbeling they've seen come through the facility.
• Our cattle never leave the farm, from start to finish. Each beef is dry aged no less than 14 days for enhanced flavor and taste. No added growth hormones and Antibiotic free.
• Frontier Farms values safe and ethical animal husbandry practices for raising choice beef start to finish.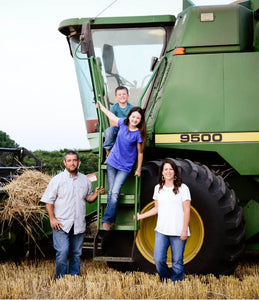 Frontier Farms Beef Favorites
More From Frontier Farms Beef